---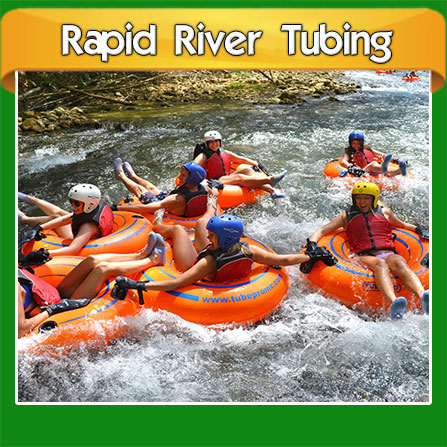 River Rapids Tubing BracoBraco Adventure Jamaica
River Rapids Tubing Adventure Located 45 Minutes from Montego Bay and 45 Minutes From Ocho Rios, in the Beautiful are of Braco Discovery Bay. As you enter River Rapids, you are greeted by one of our friendly tour guides. After checking in and putting on your safety gear, you follow your guide across the Irie bridge and along the jungle trail, leading you to the river launch point. Your guide does one final check to make sure that everyone is ready and then it's time to jump in your tube and begin your exciting adventure downstream! With the river currents carrying you through the rainforest, you sit back and relax while admiring the scenery of the surrounding landscape.Each lazy section of the river is followed by exciting class 2 rapids, where you can enjoy the faster pace of floating over splashing white water.There is a stop along the way for a chance to swim and try out your tarzan skills on the rope swing, a popular activity for everyone to enjoy.
| Hotels/Cruise Port | I-4 Persons / Not Per-Person | 5 & Up Per-Person | Addit: Person |
| --- | --- | --- | --- |
| Montego Bay | US$170.00 | US$35.00 | US$35.00 |
| Ocho Rios | US$170.00 | US$35.00 | US$35.00 |
| Falmouth | US$150.00 | US$30.00 | US$30.00 |
| Grand Palladium | US$190.00 | US$40.00 | US$40.00 |
| Negril | US$200.00 | US$40.00 | US$40.00 |
| Rose Hall Hotels | US$170.00 | US$35.00 | US$35.00 |
| Runaway Bay | US$100.00 | US$20.00 | US$20.00 |
---
Please Choose Booking Form Here
Please complete booking reservation form below, either for hotels / resorts or cruise ship passengers. When filling out the form, remember to put the deposit amount which is: 50% or full payment at the bottom section of the form, then click BOOK NOW and wait few seconds for PayPal online. Thank you so much!
---