Rose Hall Great House Montego Bay
---
ExplorerJamaica Tours is unique and separate from all the other companies in Jamaica. Why? We don't set tour packages and lock-in tours for our visitors. This is what we do: We give our client's the opportunity to choose and customize their tours. With 24 hours notice you can make changes to your reservationSo, what are you waiting for, lets take the journey.
---
Located approximately 15 minutes from the MBJ Airport. In the 1700s, a woman's route to wealth and power was usually via marriage, and Annie Palmer was no exception. Born in France, Annie was a petite
woman (barely 4 feet tall, it is said) who moved to the beautiful island of Jamaica to be the wife of a powerful man who owned Rose Hall and thousands of acres of sugar plantation. Little is known of her early days at Rose Hall. We do not know if she came to the island already imbued with a streak of cruelty, or if she cultivated it under the demands of her husband and her duties as the mistress of The Great House. You can customize this tour by adding more attraction and place like: Greenwood Great House, Doctor's Cave Beach, Hip Strip, and more.
Rose Hall Great House Montego Bay
---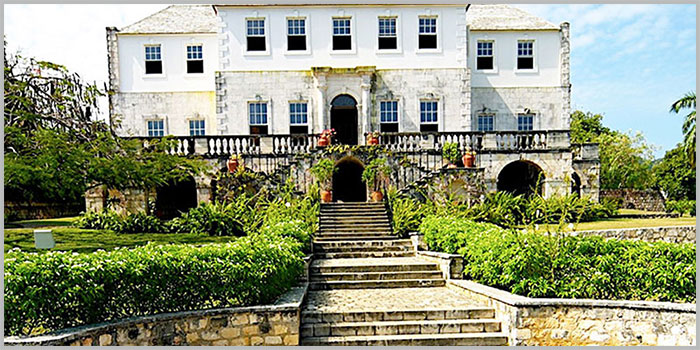 ---
Check Transportation Pricing Chart Below (Contact Us For Packages Price)
| Hotels/Cruise Port | I-4 Persons / Not Per-Person | 5 & Up Per-Person | Addit: Person |
| --- | --- | --- | --- |
| Montego Bay | US$130.00 | US$25.00 | US$30.00 |
| Ocho Rios | US$200.00 | US$40.00 | US$40.00 |
| Falmouth | US$150.00 | US$30.00 | US$30.00 |
| Grand Palladium | US$150.00 | US$30.00 | US$30.00 |
| Negril | US$190.00 | US$35.00 | US$35.00 |
| Rose Hall Hotels | US$140.00 | US$30.00 | US$30.00 |
| Runaway Bay | US$190.00 | US$40.00 | US$40.00 |